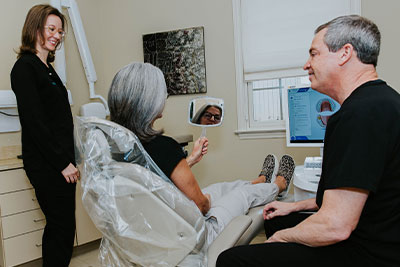 After Care – tooth crowns
You may have received a crown on your tooth to help provide tooth protection, improve tooth strength, and/or restore the healthy appearance of one of your teeth. Crowns used to take two visits to complete, but now they can be completed in one visit with no temporary crown needed.

Do not eat for at least 30 minutes after your crown is placed. This is because the cement used to put the crown in place requires 30 minutes to set.

Do not chew hard or especially chewy food for at least 24 hours from when your crown is placed. (Please do not chew gum, candy, or other foods that might stick to your crown, as they may pull it out!)

Brush and floss after eating and at bedtime.

Return for regular six-month checkups after placement of your crown.

If your crown breaks or falls off:
Occasionally, crowns break or fall off. If this happens, don't be alarmed! However, let us know immediately. We'll ask you to bring the crown with you so we can replace it.

If your crown falls out and it's after-hours, you can try using a small amount of toothpaste or a denture product like Fixodent® to hold it in place until our office is open.

Do NOT leave the crown out of your mouth! Without it, your teeth may shift and cause your crown not to fit properly.

After care is essential for any dental procedure after receiving a tooth crown. Restorations should last for many years as long as you continue practicing good dental hygiene and receiving regular checkups with your dentist.

BACK TO MISCELLANEOUS SERVICES

CONTACT US