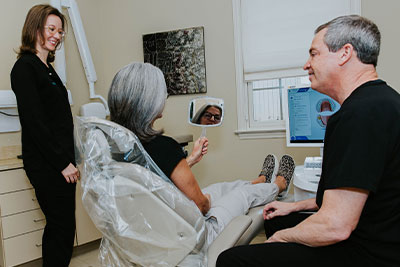 At the Greensboro cosmetic dental office of Dr. Scott Welch, we offer you the best in-office dental tooth bleaching services, which will help whiten your stained teeth and restore your natural tooth color. Tooth-whitening and bleaching procedures are one of the most popular cosmetic dentist services. They're affordable and quick, and the tooth-whitening results speak for themselves.

There's a difference between tooth whitening, which removes stains by polishing your teeth's surfaces, and tooth bleaching, which sends peroxide into the tooth to whiten the organic material inside. Teeth whitening toothpastes and gels will whiten or clean surface stains by gently rubbing the teeth's outer layer. Teeth bleaching, whether at low concentrations over a more extended period of time or higher concentrations for a short duration, typically provides a whiter white tooth and more lasting results for teeth whitening.

Bottom line: you can get results with at-home tooth whitening kits, but in-office tooth bleaching with the Zoom tooth whitening process is far faster and achieves much better tooth whitening results. A professional tooth whitening procedure, Zoom!, uses a prescription-strength amount of hydrogen peroxide and a unique light accelerator to achieve rapid teeth whitening that may have discolored over time. Teeth whitening done in our office is safe, quick, and easy. Using the Zoom! teeth whitening system, we can help you achieve a whiter, brighter smile!

Regain your youthful, white smile: to make an appointment in our Greensboro cosmetic dental office or find out more information about the professional Zoom tooth whitening procedure, call Dr. Welch's Greensboro cosmetic dental office or check out Zoom! tooth whitening website at:
http://www.zoomwhitening.com/about_whitening
Be sure to floss daily and brush with an anti-sensitivity toothpaste and clean your tongue carefully at least twice each day.

BACK TO COSMETIC DENTISTRY SERVICES

CONTACT US